Debt-covering surprise on Saturday: GOP and Obama are talking again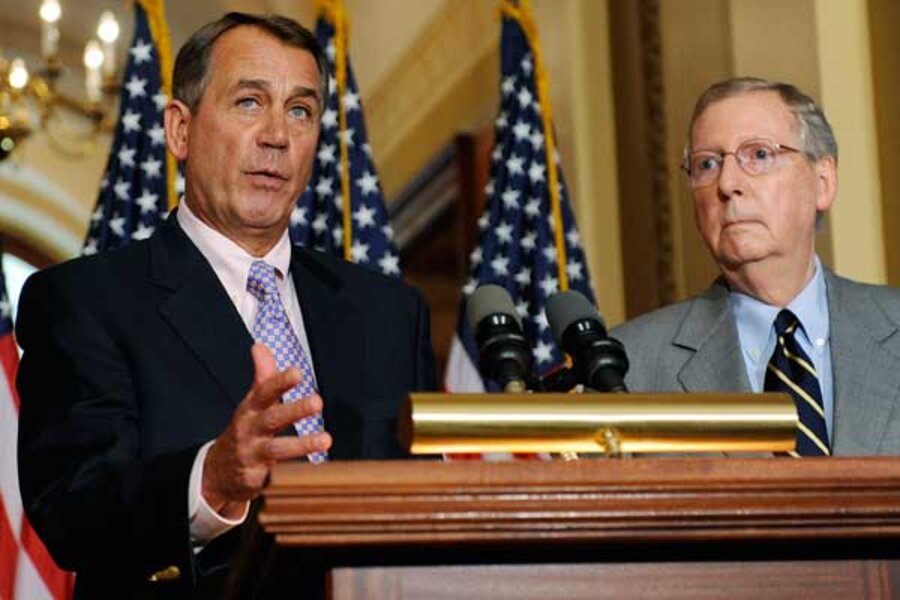 Washington
There were signs of a possible resolution to the federal government's debt crisis after both the House and Senate convened for unusual Saturday sessions that were noteworthy for a partisan fireworks display.
California Minority Leader Nancy Pelosi (D) in the House of Representatives and Nevada Senate Majority Leader Harry Reid (D) were called to the White House to meet at 3:30 p.m. to discuss debt limit negotiations with President Obama.
Around the same time, House Speaker John Boehner (R) of Ohio and Senate Minority Leader Mitch McConnell (R) of Kentucky held a press conference on Capitol Hill and were optimistic about reaching an agreement that would benefit the nation from borrowing enough to pay his bills.
Senator McConnell said he had spoken "in the last hour" with both Mr. Obama and Vice President Joe Biden, and that the White House was "now fully" in talks with the two Republican leaders about the debt crisis. Spokesman Boehner said he and McConnell were "both confident" that they could "end this impasse".
McConnell added, "Our country will not default. We will get a result."
His tone was strikingly at odds with everything that had happened in the House and Senate up to that Saturday, strongly suggesting that much of what had happened before had been political theater aimed at making Republicans possible to vent their anger.
On Friday, the House of Representatives bill, which Boehner had spent all week tinkering with and reworking, was unceremoniously dismissed by the Senate within a few minutes. It was the second time in a week that the Senate abandoned a House debt-limiting plan without debate, causing frustration among House Republicans.
On Saturday, House Republicans essentially showed the Senate that they can play the same game. They put forward a version of a debt control plan written by Senator Reid. It was brought to the floor according to rules that did not permit any changes and required a two-thirds majority for adoption. With 246 to 173 votes, it even missed a simple majority.
Similarly, Boehner and McConnell sought a small amount of revenge on Obama in their press conference, saying he single-handedly reversed a bipartisan deal they negotiated with Reid and Congressman Pelosi last weekend – an allegation the reject democratic leaders.
"We can't do it without the president," said McConnell.
"It was the president who derailed the talks last weekend," added Boehner. It is "time for the President to tell us what he is there for".
By and large, the White House wants legislation to raise the government's $ 14.3 trillion debt ceiling to the point where another vote on the politically painful move will not be required until after the November 2012 election. The Treasury Department says the government will be out of lending on Aug. 2 and unable to pay some of its bills.
The mood was high on both sides of the debate in the House of Representatives on Saturday. Minnesota presidential candidate Rep. Michele Bachmann (R) accused the Reid plan of allowing "insane, never-before-seen spending levels". She added that "the president has no plan" to deal with the debt ceiling crisis.
Maryland Rep. Chris Van Hollen (D), the top Democrat on the Budgets Committee, accused Republicans of "playing chamber kaze pilots with the future of the American people".
Meanwhile, the Senate continued to debate a different version of Reid's debt-limiting measure on Saturday than the one the House of Representatives had rejected. It would authorize Obama to propose two $ 1.2 trillion installments to raise the national debt ceiling, which could only be blocked if two-thirds of lawmakers in both houses of Congress vote against it. These increases would be offset by spending cuts of $ 2.4 trillion.
A vote to break the debate and move on to the bill is scheduled for 1 a.m. on Sunday. It takes 60 votes to be accepted.
But when the Senate began its Saturday session, McConnell announced that 43 Republicans had signed a letter to Reid saying they would not support his plan – and Reid fell three votes short of the number he needed. Reid urged Republicans to come up with ideas on how to improve the measure and improve its chances of enforcement.
"We are ready to listen to ideas to improve the proposal," he said.
It's not clear how the behind-the-scenes negotiations between the White House and Republican leaders will affect the nightly Senate meeting.
Members of both parties are under increasing political heat in order to resolve the crisis, as its possible effects affect not only national but also global problems. The New York Times reported that Adm. Mike Mullen, chairman of the Joint Chiefs of Staff, was questioned several times by US forces in Afghanistan on Saturday whether their paychecks would arrive on time. Mullen said it was not clear where the money for the payment would be found if the government defaulted.