This fund returned 800% on Argentine debt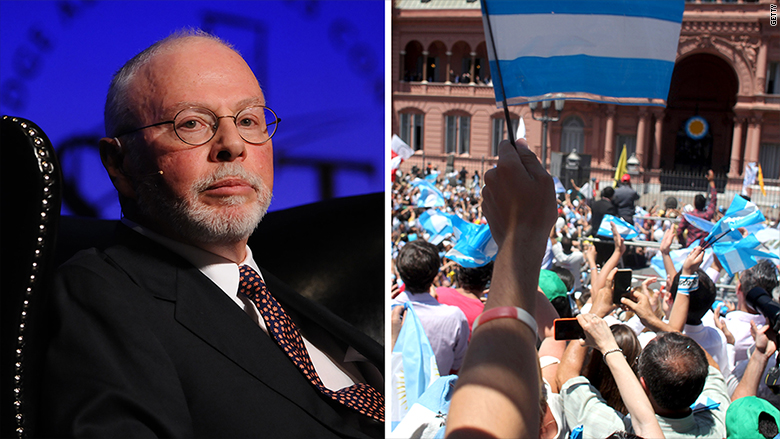 American hedge funds benefit from Argentina.
Argentina and four hedge funds ended a 15-year debt war Sunday night. Argentina – South America's second largest economy – agreed to pay a total of $4.65 billion.
As the dust settles, details emerge about how much cash each hedge fund will put in the bank.
One fund, Boston-based Bracebridge Capital, will return approximately $950 million on its original $120 million principal. That's roughly an 800% return.
Billionaire Paul Singer and his firm NML Capital — the leading firm in this case — will collect $2.28 billion in principal and interest payments. That's a huge payday considering NML's original amount of just $617 million. That's a 370% yield, according to the terms of the agreement and a court document filed by Argentina's Treasury Secretary, Santiago Bausili.
Argentina offered to pay about 75% of the hedge funds' total claims. Bloomberg reported on the individual returns for the first time on Tuesday evening.
See also: Argentina ends 15-year debt war
The settlement of the dispute is also a big win for Argentina – it can finally return to foreign capital markets after being virtually barred from defaulting on $95 billion in debt in 2001. This will greatly help its economy to grow.
However, it's the tough negotiations and the kind of sky-high returns that result that make Latin Americans vilify hedge funds. Singer and the others are called "Vultures" in Argentina.
Their strategy is pretty simple: wait for a developing country to default on its debt, jump in and buy the country's debt at a very cheap price, and then sue the country for full repayment.
"While Argentina can now return to markets, the settlement confirms a predatory and exploitative business model," said Eric LeCompte, chief executive of Jubilee USA, a firm that advocates for financial reform in developing countries.
Singer and Argentina fought for 15 years. By 2010 Argentina had resolved its debt problems with 92% of its creditors. But Singer and other funds — which make up the bulk of the other 8% — held out. And a New York judge, Thomas Griesa, agreed with them. He ordered that Argentina could not pay creditors until it paid Singer and other holdouts.
See also: Latin America: China's Power Play Directly Under the US
The battle finally ended with the settlement late Sunday evening. It's not all settled: Argentina's Congress has yet to approve the payments and repeal laws that prevent the country from paying arrears. However, Congress is expected to do both.
NML Capital did not respond to a request for comment. Other companies declined to comment on this story.
Argentina's Congress has until April 14 to approve the deal.
CNNMoney (New York) First published March 2, 2016: 5:15 pm ET